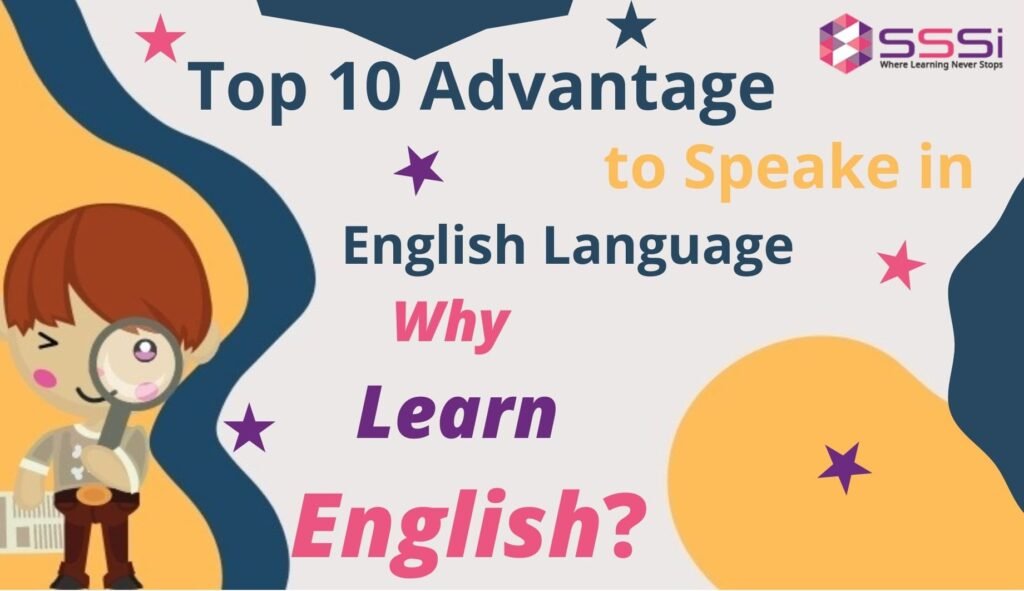 In independent India maximum number of people are bilingual or trilingual. One can predict the importance of the English language as it has been taught in the school as the second language. People with poor English face difficulties expressing their viewpoints, ideas, and thoughts. Hence, they seek English speaking courses to develop speaking skills. Keep reading to know why learn English language.
Why Learn the English Language in India?
The most common question that every Indian person asks "Why learn English Language?" What is the importance of learning a language? Around 125 million people speak English in India. No less than 1.25 billion people worldwide speak English. This is the only language which helps us to connect with people all around the world.
Top 10 Importance of Spoken English in India
India is a land of diverse cultures and languages and is the world's second-largest English speaking country. The language is referred to known as the storehouse of scientific knowledge. For developing countries in India to develop the role of a global superpower, it is pivotal to have up-to-date knowledge of the people in the field of the different branches of science and technology. The following are the importance of spoken English in India:
1. Importance in international affairs of India
India's foreign policy mainly focuses on the seeking attention of the other countries of the world. India aspires to have good relations with all nations. She needs to defend her position and persuade others of its validity. Without a productive forum for exchanging ideas cannot accomplish this, and English is the language for such a medium of communication. It enjoys the status of an international language, and the discussion and meetings held in the U.N.O are conducted in English. Therefore, if India wants to contribute its role in international affairs, its people must study the English language.
2. Importance in technological and scientific advancement
The world is considered as the age of science, which has changed terrifically. All the latest technologies and scientific reports are written in the English language. This is due to the advancement in science and technology the countries have made. To keep pace with these developed countries, we must develop science and technology in our land. This requires good command over the subjects; thus, learning English is important. If you are new to the language, start with the spoken English beginners courses.
3. Important for higher studies
Studying the greatest literature is crucial for healthy mental growth. We must always be willing to learn from others if we wish to lose the illusion of superiority and widen our thoughts. Now, getting literature ideas in English from other nations and our diverse languages is simple. Modern, contemporary literature is not available in our native tongues. Our young guys must keep learning English because of this.
Additionally, a lot of young guys travel abroad to pursue advanced degrees. They must have solid English skills. For these researchers, it is of utmost significance.
4. Better job opportunities
English is considered the language of opportunity. It plays a very crucial role in the employment sector. Candidates with poor speaking skills need to enhance their skills and join online speaking classes.
5. Enhance network and build communication
Nowadays, people look for online digital platforms to develop their networks and build communication for personal and professional purposes. Therefore, to connect with the country's people, it is essential to have a language to communicate, express and share their point of view. As most people understand English, it is pivotal to learn the language. Numerous English speaking classes are available. You can select any as per your requirement.
6. It makes you smarter.
Learning a foreign language can help you to develop cognitive and analytical skills. However, it can be difficult for the beginner to learn from scratch as it requires mental exercise. Good command of the English language increases the sense of self-worth and boosts confidence.
7. Explore different culture
Knowing English help you to explore the different culture of people around the world. The language allows you to effortlessly interact with people and learn about their culture and nation. If you want to learn the language, join spoken English classes online and start your journey.
8. It makes travel easier.
Learning the language helps you to travel everywhere. The language is considered the travel language of India, and all the important information is available in the English language and the local language. Therefore, it helps to avoid miscommunication while travelling to a foreign land.
9. Language of media
Despite being isolated from the world to receive information or to hear people's experiences, media helps people stay connected. All the information on the internet is available in English. It is considered the primary language of media.
10. Living abroad
If you want to pursue your higher studies or build your career in a foreign land, you need to appear for the exams such as TOEFL, IELTS and others to showcase your ability to speak and understand English. If you are too planning to study or live abroad, joining the best online spoken English classes would be more beneficial for you.
Top 10 Advantages of Spoken English in India
The following are the top 10 advantages of learning English speaking in India:
1. Expands your income potential
Speaking English is now regarded as a valuable talent for a professional job in the age of globalisation. Numerous global firms need people who speak English fluently and confidently to engage with their clients, as the industry demands formal English.
2. Improve listening skills
It helps activate your brain functionality, especially when the teacher uses rhyme games in the classroom. Several English speaking course also includes such games to improve your listening skills.
3. Improves memory
Case studies have revealed that learning more language improves memory irrespective of age, increases attention span, and performs well in the attention test.
4. Widen entertainment opportunities
Hollywood's largest film industry makes films in the English language, and it is always good to appreciate international art and work. It helps you to avoid depending on the subtitles. Students from class 6 to class 12 must watch the Hollywood movie as it enhances their communication skills.
5. Help in Research
When conducting research for your studies and later in life, most websites are written in English, which will help you become more knowledgeable.
6. Useful knowledge
Learning a new language takes a lot of time and perseverance. So demonstrating this amazing ability will make you stand out to companies and enhance your CV.
7. Make new friends
Enrolling in online speaking English classes will enable you to make new friends from various walks of life and discover a variety of cultures.
8. Better academic scope
It helps the kid broaden their academic scope and apply for the examination at the university of their choice.
9. Assist in learning another language
It forms a base for learning other foreign languages such as German, French, Spanish etc.
10. Build confidence
It helps you present your ideas and thoughts and communicate more confidently and effectively.
If you want to improve your speaking skills, joining online tutoring services will be more beneficial as it offers the best online Spoken English classes and additional benefits such as live interactive classes, 24*7 student support, quality content etc.